In light of October being Pastor Appreciation Month (started by Focus on the Family in 1994), here is a recommended 7-Day Devotion for you to enjoy.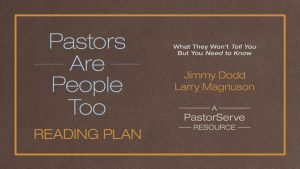 A healthy church requires a healthy pastor. Discover proven ways to make a positive impact in your pastor's world and the life of your church. This practical devotion offers tangible ways to better understand and care for the pastor who cares so deeply about you. Pastors and their families live under incredible pressures. Their lives are played out in a fishbowl, with the entire congregation and community watching their every move.
They are expected to have ideal families, to be perfect people, to always be available, to never be down and to have all the answers we need to keep our own lives stable and moving forward. Those are unrealistic expectations to place on anyone, yet most of us are disappointed when a pastor becomes overwhelmed, seems depressed, lets us down or completely burns out. Learn how you can help and better appreciate your pastor and his family through this free 7-day devotion.