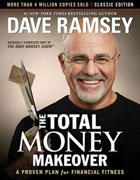 If you're tired of the lies and sick of the false promises, take a look at this–it's the simplest, most straightforward game plan for completely making over your money habits. Instead of promising the normal dose of quick fixes, Dave Ramsey offers a bold, no-nonsense approach to money matters, providing not only the how-to but also a grounded and uplifting hope for getting out of debt and achieving total financial health. Dave Ramsey lays down a concrete plan to get people out of debt and into good financial position based on Biblical principles.
With "The Total Money Makeover" you'll be able to:
• Design a sure-fire plan for paying off all debt–meaning cars, houses, everything
• Recognize the 10 most dangerous money myths (these will hurt you)
• Be more secure for emergencies by using cash and have a good retirement
To learn more about financial peace visit: http://www.daveramsey.com/new/baby-steps/
How to get this resource:
At Calvary Chapel of Fergus Falls we practice these principles, and recommend Dave's Seven Baby Steps.