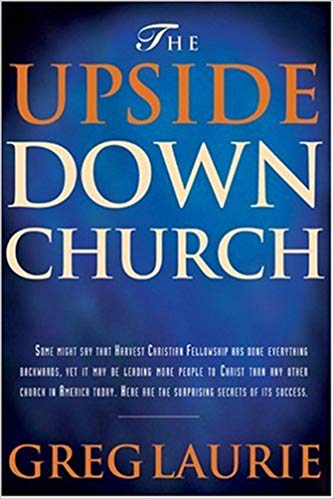 Looking for ways to light a fresh fire under a church whose flame is burning low?
In the book, The Upside Down Church, Pastor Greg Laurie uses the biblical guidance found in the book of Acts to show what the New Testament church really looked like, and what we find is that we have come a long way from them.
The Upside Down Church is a must-read for pastors and church lay leaders to help them grasp the principles of biblical church growth. This book will help you rediscover the first century church priorities of fellowship, evangelism, worship, and discipleship.
By in large the early church and much of the Calvary Chapel movement has used growth methods that are upside down when compared to today's church grown models (such as The Purpose Driven model for example). The approach many churches have taken is from the business world instead of following God's Word.
Pastor Greg Laurie demonstrates in this book how the mission of Harvest Fellowship (the church he pastors at) has simply been to live out the Great Commission and be the church that honors God.
This book helps readers to learn about God's original plan for His Church, discover God's plan to save the world, understand how twelve men turned the world upside down, recognize the power of prayer, and concluded that God can use you too.
How to get this resource: