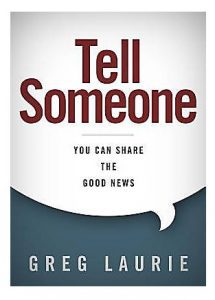 The church of today has a choice: either we evangelize or we fossilize. Show me a church that doesn't have a constant flow of new believers coming in, and I will show you a church that is stagnating. With the church of the first century, "each day the Lord added to their fellowship those who were being saved" (Acts 2:47).
If you are like me, at some point in your past or even the present you've probably felt a bit of uncertainty about how to effectively share the "good news" of the Bible's redemptive message. Understand, this book by pastor and author Greg Laurie is not written to condemn you if you have not engaged others with the gospel message. This book is written to encourage and inspire you.
Taken from the life and witness of Jesus, and tested over Greg's forty years of ministry, these ideas are intended to mobilize every person in the church to "Tell Someone" about Jesus Christ. If you've struggled with evangelism then this book give you the tools you need to overcome some of the obstacles you face in sharing the gospel message. Personally I've appreciated the down to earth advice found in this book because it is grounded in the overriding principle of love.
How to get this resource: