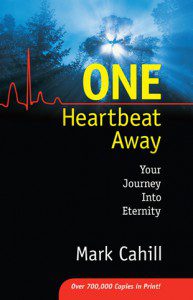 This book is based on actual conversations with lost people, and will help you anticipate their questions and objections. Why have atheists, agnostics, Muslims, Catholics, prisoners, and soldiers all read One Heartbeat Away and become born again? As best-selling author Mark Cahill suggests, because once you know the truth about the Bible, creation vs. evolution, heaven and hell, sin, and the cross, there is only one logical decision to make. The truth does set you free! Get this book into the hands of family, friends, and strangers and watch the Holy Spirit work wonders in their lives.
This book provides answers to that question as well as to the following:
Can you prove there is a God?
Doesn't evolution disprove the existence of God?
Can you prove the Bible true?
What is out there after I die?
All of this information is laid out in a reader-friendly style, and even though this book is written to address the issues of sharing truth with the non-believer, it is also good for those of you who want to be armed with answers to the questions you know you're going to get when you are out there sharing and witnessing. You can now have the ammunition to answer their questions, with strong evidence and clear conclusions. Enjoy reading and sharing it with others!
If you are sincerely seeking and searching for the truth about life, you can get this book for free:
How to get this resource: