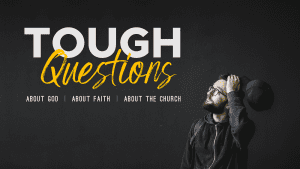 Tough Questions
Welcome to the Tough Questions Series, where we tackle four main questions and give answers that deal with life, God, and the church.
The churches in Fergus Falls, MN will be working together to answer these questions and share them with our community and our world.
We hope you'll draw closer to God through these resources!

1) Is it reasonable to believe in God?
2) How could a loving God allow pain and suffering?
3) Is Christianity too narrow?
4) How can I know if I'm going to Heaven?
Have a question? Ask Pastor Tim: