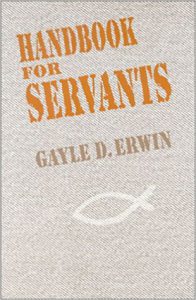 Do you hunger for God to be active in your life? Do you wonder if the Holy Spirit can renew and empower you? Gayle Erwin places our hand in the hand of Jesus and takes us to the side of the Comforter.
Answers to nagging questions for those who serve: Handling Manipulators, Working with Authority, Forgiveness, Fear, Competition, Anger, Politics, "Feelings", Foreign Ministry, Home Fellowships, Worship, Communion, Prayer, and more.
Gayle Erwin is fresh in his humor, Bible teaching share with us the Jesus style of serving in this Handbook for Servants.
How to get this resource: