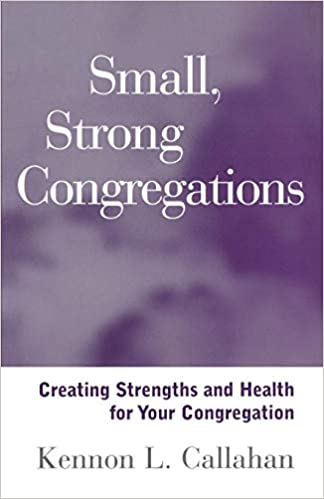 Many books suggest that the future of the Christian movement rests with the success of mega-congregations. These authors also conclude that small congregations are doomed.
But author Kennon L. Callahan, a noted church consultant, moves ahead of such thinking and envisions a very different future.
In this book, Callahan confirms that the twenty-first century will be the age of consciously small, strong congregations that are dedicated to advancing God's mission.
Callahan suggests that small congregations should assess themselves by eight distinctive qualities afforded by their size:
Mission and service
Compassion and shepherding
Community and belonging
Self-reliance and self-sufficiency
Worship and hope
Leaders and team
Just enough space and facilities
Giving and generosity
Callahan doesn't try to convince the small church leader to adopt a mega-church mentality. Rather, he challenges them to look within their respective communities and tap into the power and the resources that already reside there.
And, Callahan does challenge the small church to live a life of service to the community rather than retreat into a life of survival. Some are preoccupied with a lot of land, a powerful preacher, more members, and a beautiful building, but they are preoccupied with "us" and the church growth model rather than the mission of growth.
Small, Strong Congregations have a passion for mission not a mansion, and they focus on the family more than facility. It is about mission not membership.
How to get this resource: