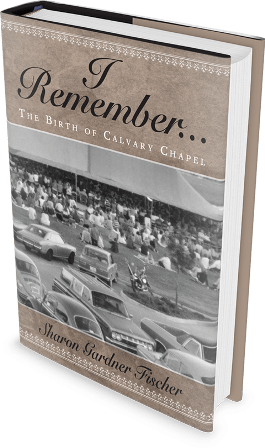 This book will take you back in time to the very beginning of Calvary Chapel. As original members of Calvary Chapel, later called Calvary Chapel Costa Mesa, Sharon and Hal Fischer have a unique perspective on the amazing growth and history of the Calvary Chapel movement. Hal was part of the original board that hired Pastor Chuck Smith in December of 1965 as associate pastor at the small non-denominational church, and by 1966, Pastor Chuck was leading Calvary Chapel as senior pastor.
Sharon says, "It all began more than fifty years ago, when just a few of us gathered for the first time in a humble trailer court recreation room on Newport Boulevard in Costa Mesa, California. We stood on the threshold—the enormity of what was before us we could not have imagined in our wildest dreams. 'The Lord was in this place, and we didn't know it'–– this could have been said of the ten or twelve people who gathered that first Sunday on a spring morning in 1961."
Without spoiling the story—at least for those who don't know the history of Calvary Chapel, I'll say this: it is a must read. This book is more than just a memoir; it is a book of dedication to the God who changes hearts by His unending grace. Getting a first-hand account of someone that was at the beginning of a movement is a delicious treat for anyone interested in the unfolding drama of God's work through Calvary Chapel and the universal church.
How to get this resource: