Join Pastor Tim Molter and Calvary Chapel Fergus Falls, MN for a trip of a lifetime to Israel, March 7th-18th, 2024.
We'll join Calvary Chapel Chico, CA (with Pastor Sam Allen, where Pastor Tim came from) and Shoreline Calvary International (with Pastor Tonye Holyde based in Redondo, CA and London, Tonye is Sam's brother).
$3000 (plus flights) – $1000 deposit and completed registration form below due ASAP. Also, please work on getting your passport issued or renewed if needed https://passportinfo.com/location/minnesota/fergus-falls-mn/otter-tail-county-treasurer-56537/
Included: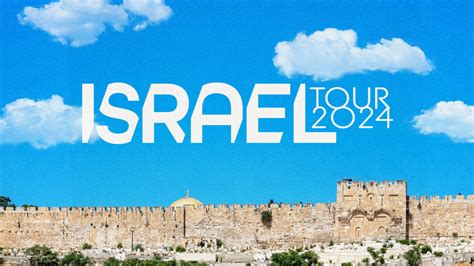 All Transfers
Bus, Driver, Guide (and appropriate tips)  
Site Entrances,  
Hotels, (and appropriate tips) 
Breakfasts
Dinners
Example of Sites:
Have a baptism in the Jordan River 
Go through the Sermon on the Mount on the Mount where it took  place 
Spend an hour or more in Worship on the Sea of Galilee  – Go to the calling of the fishermen on the coast  
See the Calling of Matthew in Caesarea where It happened  – Descend the Mount of Olives where Jesus walked on His  Triumphal Entry  
Read through Jesus' arrest in Gethsemane where it happened – Have Communion at the Garden (Empty) Tomb 
Hike the hills of En Gedi where King David fled 
Head the Valley of Elah where David slew Goliath  – Head to a first Century community to make bread, thresh wheat  and have a bedoin feast (Hafla) 
Float on the Dead Sea 
And So Much more!  
Tentative Itinerary:
Thurs, 7th — – Fly to Tel Aviv  
Fri 8th Morning at site of Calling of Disciples, Mt of Beatitudes, Capernaum (calling of Matthew)  
Sat, 9th – Tel Dan Hike, Caesarea Philippi, Kursi (site of the Man of the Tombs)  
Sun, 10th – Morning Prayer sea of Galilee, Worship on Sea of Galilee, Baptisms in Jordan River
Mon, 11th–Nazareth Village, Kfar Kdem, Mt Carmel (overlooking valley of Armageddon)  
Tue, 12th–Diet Shan, Qumran, Float in the Dead Sea…  
Wed 13th, – Life of David Hike over En Gedi, Head to Jerusalem
Thurs, 14th – Davidson Centre, Southern Steps, Wailing Wall, Temple Mount, Rabbi's tunnel, Temple Institute
Fri, 15th– Caesarea, Valley of Elah
Sat, 16th – Jesus' last night – Walk the steps from Jesus' Arrest to Crucifixion
Sun, 17th –Hezekiah's tunnel, Communion at Garden Tomb, Prayer at Mount of Olives,  Mon, 18th – Jaffa Port for Devo – Fly back to home as changed people  
Payment Due Dates:
Aug. 14th 2023 = $ 1000 Registration
Oct. 1st 2023 = $1000
Dec. 3rd 2023 = $1000
Dec. 31st 2023 = Airfare Cost (MSP to TLV – we will book as a group)
($500 non-refundable after 1st Oct, 2023) ($1000 non-refundable after 1st Dec 2023)
Note: We cannot reserve a seat for you until the deposit is paid
To simplify please make checks or payment to "Calvary Chapel Fergus Falls" or use our online method at: https://givlia.com/g/ccff?fund_id=n39xzqerp64vylmk&amount=1000
Send the filled out information below as an email to: SCPRAY4ME@Gmail.com (cc: CCFergusFalls@gmail.com – Thanks!)
---
Registration:
Name: _______________________________________________________ Preferred Roommate: _____________________________________________________
Email Address: _______________________________________________
Mobile: ______________________________________
Passport # ___________________ Country: ___________ Issue date: _________ Exp date: ____________
_____ Deposit paid today
______ Single Supplement Request ( $1250) all hotel room stays with only you in them
---
Israel Trip 2024 Checklist:
Personal Information:

Registration
Passport Copy (if lost we can use the copy to get another at the Embassy)
List of Current Medications

Payments:

$1000 Deposit
$1000 2nd Payment
$1000 3rd Payment
Airfare cost
Things to Bring:

Bible, (AND, but not "or" Bible App)
Journal
Current Passport
Spending money for Lunches, incidentals
Shoulder, knee cover as needed – (Zip-off convertibles, Sweats, etc. – There will be a Catholic site that requires shoulders and knees to be covered)
Comfortable walking / hiking shoes
Swimsuit (Float in the Dead Sea, Baptism at the Jordan River)
Small Portable Phone Charger
Backpack
Shoes that can get Wet (if taking Hezekiah's Tunnel)
Contact your bank that you will be using your cards out of country
.
To Note: Commonly asked

Bringing American Currency: there are places to exchange
Wi-Fi: on the Bus as needed
Traveling Insurance isn't a bad idea in case of sickness or health issues
This is a 1st World country that caters to tourists: you can get the basics there
As a tourist country: Most locals speak enough English to get along
All hotel meals are buffet style: so you can cater to your diet as needed