The best way to stay connected with us during Coivid-19 is to be on our email list and ensure we have your contact information. Simply email ccfergusfalls@gmail.com, and tell us you would like to be added to our email list or sign-up online at: http://eepurl.com/bLKkf5
Re-gather starting June 7th, 2020
Calvary Chapel Family as we move to re-gather at the YMCA we are reminding you to continue to abide in Christ… we need His leading of our lives now more than ever before in this new season of ministry. This is a time for extra focused effort on fulfilling Gods unique call upon our lives. We are excited to gather together with you again church, see the details below.
5 Ways to Stay Safe and Love One Another
If you are sick at all, (fever, cough, etc.) or have been exposed to someone who has or is being tested for COVID-19 in the last 14 days, please stay home and watch the service live on Facebook or once it's posted online.
Chairs will be setup in the small gym for households to sit about six feet apart from other families for social distancing.
Use hand sanitizer or wash hands with soap. You don't have to wear a mask to attend, but we do ask if you have a fever to take your temperature. If its over 100.4 we ask you stay at home and rest.
Follow all instructions given by leaders, ushers, and parking lot attendants. Note: To enter the YMCA we will use the side door near the street sidewalk. We'll have signs to help direct.
Show love and respect for people with different opinions with both your words and actions. Our desire is to gather together and worship Jesus in spirit and in truth.
Covid-19 Updates:
Legal and Safety Checklists to Reopen for Church Services:
Fergus Falls Food Shelf
Due to concerns about the effects of COVID-19 on their clients and volunteers, the Fergus Falls Community Food Shelf Board of Directors reluctantly voted to cease operations.
Effective March 18, 2020, the City of Fergus Falls is assuming food distribution, offering staff time and infrastructure to continue serving the community for the foreseeable future.
The City staff and volunteers will be working out of the Community Food Shelf building at 1512 N. 1st Avenue, Fergus Falls on Monday-Wednesday-Friday from 1:00-4:00 PM.
The City is compiling a list of volunteers to alert when needs arise to volunteer at the Food Shelf. You can sign up for the Volunteer Alert List at the bottom of the page at: Volunteer Alert List
Ways to be helped and to be of help to others:
If you find yourself in a difficult situation or if there is anything we can do to help you spiritually such as counseling, prayer, or send resources please let us know. If there is anything we can do to help financially, such as provide monetary assistance for food, housing, or other critical items please let us know. And, we would love more input on how we can give back to our community and reach people with the gospel and love of Jesus. So, please let us know if there is any group or charity that you would like to see blessed by a financial donation.
Contact us by Phone: (218) 531-9349 (Call/Text) or Email: ccfergusfalls@gmail.com
Here's a great print resource to use if you're looking for a simple way to help your neighbors: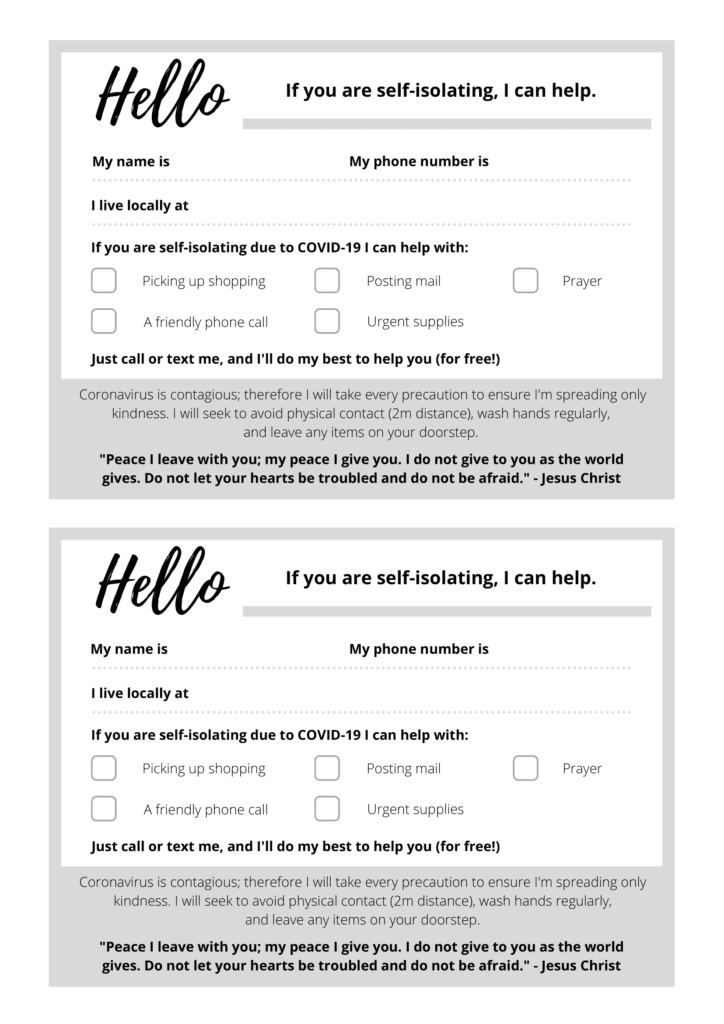 Service Food is offering a free grocery shopping service with outside pick up at the store or delivery to your home. If you would like to volunteer to be a delivery driver, you can email servicefoodmarket2go@gmail.com or call 218-998-0145.