Re-gather starting June 7th, 2020
Calvary Chapel Family as we move to re-gather at the YMCA we are reminding you to continue to abide in Christ… we need His leading of our lives now more than ever before in this new season of ministry. This is a time for extra focused effort on fulfilling Gods unique call upon our lives.
We are excited to gather together with you again church, but we do understand that not everyone will be able or ready to participate at in-person gatherings at this time, and that is OK. We will continue to stream our church services online which you can view from our church website and are working hard to continue to make it a high-quality experience at: live.ccfergusfalls.com and on YouTube at: youtube.com/c/Ccfergusfalls
We also encourage people to be sensitive and respectful by maintaining a distance with others until you are made aware of their social distancing comfortableness. The YMCA has asked for adults to wear masks in the common/lobby area and entering/exiting the building near their staff. However, when our congregation is in the community room it's up to you to about the usage of masks and/or face shields. We appreciate the continued mutual support of the YMCA and of each of you.
If you have any prayer requests or needs at this time (help shopping for groceries, etc.), or questions please feel free to let me know us know and email us (ccfergusfalls@gmail.com) or call us (218-531-9349).
5 Ways to Stay Safe and Love One Another
If you are sick at all, (fever, cough, etc.) or have been exposed to someone who has or is being tested for COVID-19 in the last 14 days, please stay home and watch the service online or once it's posted online. This is our screening policy per agreement with the YMCA facility use.
Chairs can be setup for households to sit about six feet apart from other households if desired, and we are doing our best to help accommodate for social distancing requests.
Use hand sanitizer or wash hands with soap. We ask if you have a fever to take your temperature. If its over 100.4 we ask you stay at home and rest. This is our screening policy per agreement with the YMCA facility use.
Your health is important. Please follow all instructions given by leaders, volunteers, and the Lord.
Show love and respect for people with different opinions with both your words and actions. Our desire is to gather together and worship Jesus in spirit and in truth.

Federal guidelines suggest Face Coverings be worn in public places during the pandemic, and can include a paper or disposable mask, a cloth mask, a neck gaiter, a scarf, a bandanna, or a religious face covering. People can also use clear face shields, and those who are medically in the high risk category or feeling sick at anytime are encouraged to stay at home. Per Executive Order 20-81 there are legal exemptions for people who are unable to wear or tolerate a face covering due to medical or mental health conditions or other reasons. There are also situations in which a face covering may be removed, such as when eating or drinking, provided that social distancing is maintained. With the Executive Order, we are told not to confront a person about why they are not wearing a face covering and to not report the person to state or local authorities, including law enforcement. Instead, we are to ask the person to maintain social distance, if possible. We will extend grace to those who wear a mask and to those who are not, as our only desire is that everything we do, be done out of love and to the glory of God. We love you church family!
Our Safety Checklists to Reopen for Church Services:
Ways to be helped and to be of help to others:
If you find yourself in a difficult situation or if there is anything we can do to help you spiritually such as counseling, prayer, or send resources please let us know. If there is anything we can do to help financially, such as provide monetary assistance for food, housing, or other critical items please let us know. And, we would love more input on how we can give back to our community and reach people with the gospel and love of Jesus. So, please let us know if there is any group or charity that you would like to see blessed by a financial donation.
Contact us by Phone: (218) 531-9349 (Call/Text) or Email: ccfergusfalls@gmail.com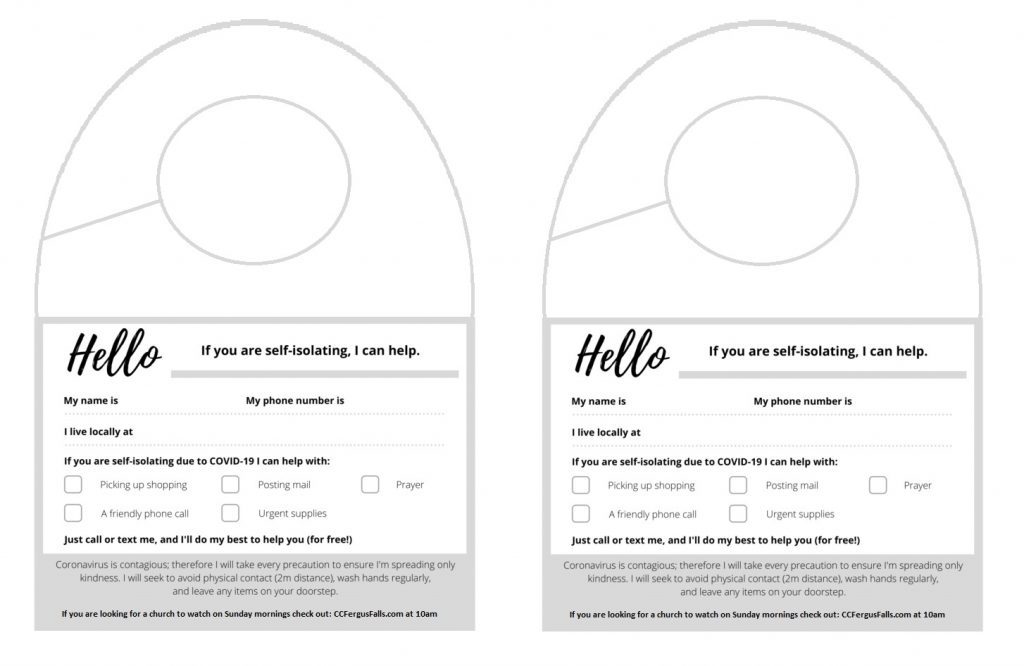 Note should Churches or Christians be singled out as non-essential and told we can not meet together anymore:
Christians are bound by their faith to worship together. Time-honored rites and traditions, including prayers, singing, Scripture reading, communion, baptism, fellowship, and a laying of hands in blessing, are among those elements that comprise the free exercise of religion. The first Amendment to the United States Constitution known as 'Freedom of Religion, Speech, and the Press' says: Congress shall make no law respecting an establishment of religion or prohibiting the free exercise thereof, or abridging the freedom of speech or of the press, or the right of the people peaceably to assemble and to petition the government for a redress of grievances. For more information please read "A Biblical Case for the Church's Duty to Remain Open" or contact us.