Thank you for your desire to give! There are 3 main ways you can help:
1. PRAY

"The effective, fervent prayer of a righteous man avails much." James 5:16 NKJV
Prayer is the lifeblood of this ministry and we believe the church moves forward on its knees. Every successful ministry has had dedicated prayer warriors behind it.  One way you can support this ministry is with your prayers. Thank you for partnering with us through your prayers!

2. SERVE

"For you, brethren, have been called to liberty; only do not use liberty as an
opportunity for the flesh,but through love serve one another." Galatians 5:13 NKJV
Serving is an opportunity for you to put the love of Jesus into action, and by helping someone, you get to give them encouragement, hope and show the love of Christ. One way you can support this ministry is serving alongside us. If you would like to serve with us please let us know. Thank you for your heart to serve!
3. DONATE

"So let each one give as he purposes in his heart, not grudgingly
or of necessity; for God loves a cheerful giver." 2 Corinthians 9:7 NKJV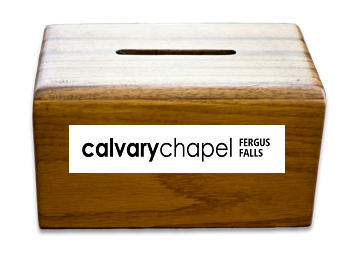 When you give to this ministry you enable us to be more effective in getting the Gospel message out which changes lives. One way you can support this ministry is with your financial giving. We see at the heart of the Gospel, that God so loved the world that He gave. God is a cheerful giver and He also loves cheerful giver! So, THANK YOU for your investment as we proclaim the Gospel together!


  You'll also have the option to "Make This Recurring (Monthly)"

All donations to Calvary Chapel Fergus Falls are 100% tax deductible. Please know that every penny we receive is prayerfully and carefully accounted for, and used as the Lord directs. We thank you for your generosity and support as you invest in God's work as it is tremendously appreciated!

If donating by mail, please make checks payable to "Calvary Chapel Fergus Falls" and send mail to:
Calvary Chapel Fergus Falls
If donating through your workplace: 
Many companies will match an employees charitable giving. Simply contact your company's Human Resources or Accounting department and follow their Contribution Matching guidelines. Be sure to indicate the Charitable Organization of Calvary Chapel Fergus Falls and the Tax ID # 46-4992124
You can also help through Amazon Smile
If you shop on Amazon.com they will donate 0.5% to Calvary Chapel of Fergus Falls on your behalf! Just visit smile.amazon.com/ch/46-4992124, and select the charitable organization "Calvary Chapel of Fergus Falls". You will receive an email confirmation and you can begin shopping.
---
DONATION GUIDELINE
Proverbs 22:7 says "…The borrower is servant to the lender", and as a church we move forward at the speed of cash and the leading of the Holy Spirit, therefore we desire to remain debt free as much as possible. We promote Biblical stewardship and therefore we don't want to see anyone go into debt by giving, so we encourage you to use review our free stewardship resources below. We want to see you blessed and not stressed!

FINANCIAL STEWARDSHIP RESOURCES

You can learn more about Financial Stewardship that is Biblically based from: